The UUC Motorwerks Ultimate Short Shifter
What makes the UUC Motorwerks short shifter kit so good is the engineering and attention to fine details, many different points that add up to tremendous differences in how the unit works and feels. We use our own precision-machined pieces, all "massive overkill" designs, race-tested to ensure they easily surpass the rigors of street use.

NEW!
shifters now shipping! Click here for details on the EVO3 updates.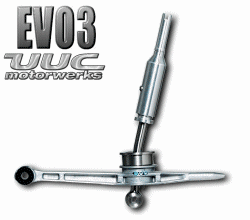 Upper lever section is height-adjustable for driver comfort. Simply loosen, slide lever to preferred height, and re-tighten.
Special features that make the "Ultimate Short Shifter" unique:
100% CNC-machined 303 stainless steel and 6061-T6 aircraft-grade aluminum construction.
UUC's "massive overkill" design philosophy exemplified. The precision machining of these shifters makes them feel like a solid one-piece design that still absorbs vibration via the rubber inner section. They do not come apart or flex like "clip together" shifters.

Height-adjustable design (EVO3 series)
Shifter height can be set to the individual driver's preference for comfort, up to 3/4" range (depending on model).

Standard Bearing Lower Pivot guarantees precise, wear-free operation superior to any soft brass or plastic.

Shifters are designed for the specific individual application. The
application guide shows exact pricing and shift reduction for your model BMW.

Super-easy to install.
If you can change your oil, you can install this shifter. Installation time varies by model (some 3-series in as little as 1-2 hours, a few applications 3-4 hours depending on installer skill).
As this may be an intimidating procedure for some, it also includes the most comprehensive documentation available, complete with photographs of each step.

All kits include shifter lever and (as needed) new washers, new circlip, white lithium grease and new BMW nylon cup.

part numbers in our application guide.

---